Features
Ouvrir une Dataroom
SECURE

confidential data

OPTIMIZE

document exchange procedures

SAVE

on the time and cost of your projects
The next generation data room
After 10 years of seamless customer support on sensitive projects, DiliTrust wanted to develop a new version of its data rooms
This new solution was built on three pillars:
OPTIMAL SAFETY, ADAPTED TO A HOSTILE ENVIRONMENT
In the current context of increased digitization and cumbersome computer insecurity, it has become essential to call on an expert for any document exchange, especially in the context of confidential transactions. Dilitrust has therefore decided to make safety its top priority. The best possible security standards are applied to DiliTrust Data Room: ISO 27001 and off Patriot Act hosting, frequent security audits, strong authentication, intrusion detection, various attacks…
EASY TO USE FOR A FAST START
Some operations are urgent. It is therefore essential that the data room solution is easy to use so that the various stakeholders who have access to it can directly focus on their operations. It is in this spirit that DiliTrust Data Room was developed: an intuitive platform on which every feature has been designed to be done with as few clicks as possible.
PERSONALIZED ACCOMPANIMENT FOR BETTER QUALITY OF SERVICE
No ineffective call center, with us a referent consultant ensures the success of your operations. More than just technical support, proximity support will provide you with all the necessary advice in terms of good practices observed throughout the DiliTrust experience.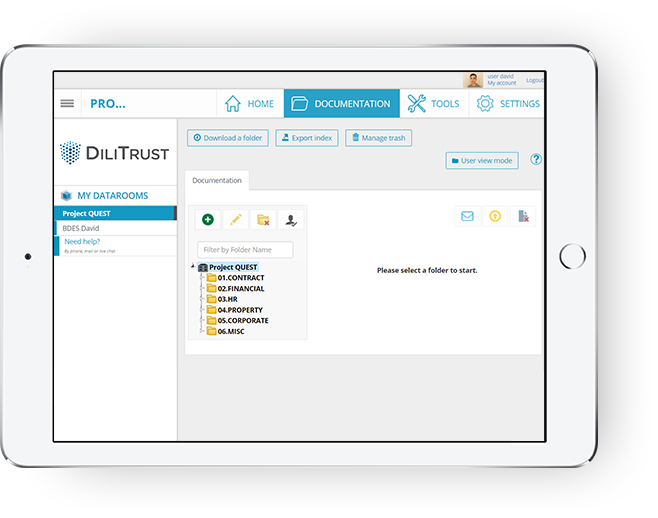 DiliTrust Data Room, a solution adapted to your projects
100% web interface

Accessible from anywhere with a simple web browser, DiliTrust Data Room does not require any software installation.

Unlimited number of users

Everyone can have their own account, which allows for better monitoring of actions and optimal security.

No storage limit

Unlike leading virtual data room providers, the price is not calculated based on the volume stored in the data room.

Modular access rights

The management of access rights can be done at the level of files as well as documents. They are also configurable by teams and by users.

User Experience 2.0

The user experience is constantly evolving. The solution is improved in terms of comfort of use.

Teamwork

Advanced collaborative features allow users to share their work directly from the secure environment of the data room.
Want to know more ?

Open a data room quickly